Scientific names

Common names

Sterculia foetida

Linn.

Bañgad (Ibn.)

 

Clompanus foetida

(L.) Kuntze

Bañgag (Ibn.)

 

 

Bañgar (Ilk., Neg.)

 

Bobo (P. Bis.)

 

 

Bobog (P. Bis.)

 

 

Bobor (Ilk.)

 

 

Boñgog (Ibn.)

 

 

Bubog (Tagb., sul., P. Bis.)

 

Bubur (Ilk.)

 

 

Kurumpang (Mag.)

 

Kumpang (Sul.)

 

 

Bastard poon tree (Engl.)

 

Wild almond (Engl.)

 

 

Hazel sterculia (Engl.)

 

Skunk tree (Engl.)

 

Sterculia nut (Engl.)

Sterculia foetida L. is an accepted name 
Other vernacular names
BENGALI: Jangli badam.
BURMESE: Letpan0shaw.
CHINESE: Xiang ping po.
FRENCH: Arbre puant.
HINDI: Jangli badam, Virhoi, Asakshara, Badam.
JAVANESE: Kepoh.
MALAY: Kepoh (Indonesia).
NEPALESE: Kaju.
SPANISH: Anacagüita.
THAI: Homrong, Sam, Samrong.
VIETNAMESE: Tr[oo]m.
Wild almond  is a spreading tree reaching a height of 20 meters or more. Leaves are crowded at the ends of the branches, and digitately compound, with 7 to 9 leaflets. Leaves are smooth, leathery, entire, elliptic-lanceolate, 12 to 18 centimeters long, with pointed tip. Flowers are malodorous, dull, yellowish to purplish, 2 to 2.5 centimeters in diameter, and borne on panicles at the axils of the leaves, appearing with new leaves. Fruit is large, smooth, ovoid, red, nearly smooth, obovoid, about 10 centimeters long, containing 10 to 15 seeds, which are black and about 2 centimeters long.
Distribution
– From northern Luzon to Palawan and Mindanao, in most islands and provinces along the seashore and in semi-open forests at low and medium altitudes.

– Also reported from India to tropical East Africa through Malaya to northeastern Australia.
Constituents
– Kernels: Fixed oil, 51.78%; protein, 21.61 %; starch 12.1 %; sugar, 5%; cellulose, 5.51%; ash 3%.

– From the leaves, study yielded two new flavonoid glycosides and a new phenylpropanoid glucose ester.

– Ethanol extract yielded flavonoids, saponins and alkaloids.

– Study of leaf extracts yielded 46 compounds, including 36 flavonoids, 4 coumarins, 6 organic acids, and 3 steroids compounds.
– Study of leaves yielded 8 compounds: 5,7,8-tetrahydroxy-4′-methoxyflavone-8-O-beta-D-glucoside, 5,7,8-tetrahydroxy-4′-methoxyflavone-7-O-beta-D-glucoside, quercetin-3-O-beta-D-glucoside, apigenin-6, 8-di-C-beta-D-glucoside, puerarin, 5,7,8,3′-tetrahydroxy-4′-methoxyflavone, 5,7,8-tetrahydroxy-3′,4′-dimethoxyflavone, 5,7,8-tetrahydroxy-4′-methoxyflavone. (11)
– Sterculia foetida oil contains cyclopropene fatty acids, namely: 8,9-methylene-heptadec-8-enoic acid (malvalic) and 9,10-methylene-octadec-9-enoic acid (sterculic) to an extent of 50–55%. (see study below) (19)

– Analysis of fatty acid composition in fixed oil yielded methyl esters of tetradecanoic acid (Myristic acid) (1.65%), hexadecanoic acid (Palmitic acid) (11.87%), 9-Octadecenoic acid (Oleic acid) (20.50%), 7, 10-Octadecadienoic acid (Linoleic acid) (20.50%), 8-(2-Octacyclopropen-1-yl)octanoic acid (Sterculic acid) (6.76%). (23)
Properties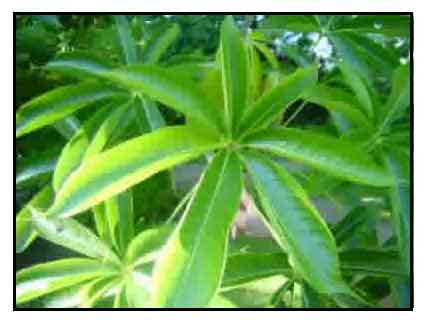 – Considered aperient, diuretic, and insect repellent.

– Bark and leaves considered aperient, diaphoretic, and diuretic.

– Kernels are flavored like cacao, but are not bitter, and used to adulterate cacao.

– Oil is bland, sweet, and yellow, with a high melting point.

– Oil is reported to resemble olive oil in its physiological properties, non-toxic, non-irritating, and administered to dogs acts like a mild laxative.
Parts used

Leaves, fruit, seed, bark.

Uses Edibility / Culinary

– Fruit contains peanut-like oily kernels which are edible and more or less laxative when eaten raw.

– Kernels sometimes used to adulterate cacao.

– The oil resembles olive oil and may be useful for culinary purposes.

Folkloric traditional medicinal benefits and uses of wild almond or Hazel sterculia nut

– Decoction of bark used in the Philippines for dropsy and rheumatism; as aperient, diaphoretic, and diuretic.

– Decoction of leaves as wash for skin eruptions.

– Decoction of leaves used for difficult labor.

– Fruit contains oily kernels which are edible and laxative when raw.

– Decoction of fruit is mucilaginous and astringent.

– Paste of oil applied to pruritic conditions.

– Oil from seeds given internally for itching and skin diseases; also applied externally as a paste.

– In Java, decoction of fruit used for blennorrhagia

– In Ghana, seeds used as purgative. (16)

Other uses

– Wood: Wood is soft to very soft, light to very light, with poor durability. Used for small project constructions: i.e, boxes.

– Fiber: Cord is made from bark fiber. (16)

– Gum / Resin: Gum from trunk and branches, resembling "gum tragacanth," used for bookbinding. (16)

– Oil: Oil from kernels is used as an illuminant.

– Paint: Oil mixed with white earth is used as paint.
Scientific proven studies on wild almond or Hazel sterculia nut

• CNS Depressant / Anti-Inflammatory / Leaves:
Extract of leaves on various animal models showed CNS depressant activity and antiinflammatory activity observed as decreased exploratory activity in mice and potentiation of pentobarbitone sleeping time in normal and chronic pentobarbitone-treated mice. The extract also showed significant antiinflammatory activity in acute carrageenan-induced rat paw edema. (1)

• Mitogenic Activity: Mitogenic Activity of Sterculic Acid, a Cyclopropenoid Fatty Acid: Sterculic acid isolated from Sterculia foetida oil was identified as one of the mitogenic principles.(2)

• Gum / Controlled Release Excipient: Sterculia foetida gum was studied as a hydrophilic matrix polymer for controlled release preparations. Results concluded it can be used as a controlled release matrix polymer. (3)

• Gum / Ophthalmic Drug Delivery System: .Study of SF gum showed it could be good polymer candidate for the formulation of different ocular dosage forms like solution or viscous solution (drops), nanoparticles, nanosuspensions or suspension, micro or nano emulsion, lotion, gels, hydro gels, in-situ forming gels, ointment, inserts, films, minitablets, etc. (7)

• Phytochemicals: Study yielded two new flavonoid glycosides and a new phenylpropanoid glucose ester from the leaves of Sterculia foetida.

• Fatty Acids: Study of the seed oil showed palmitic acid to be the dominant fatty acid, 52%, with 10% sterculic acid.

• Antimicrobial / Cytotoxicity / Phytochemical Screening: Study yielded tannins, 2-deoxysugars, leucoanthocyanin and benzopyrone nucleus. Results showed extracts with antibacterial activity, inhibiting S aureus and E coli. Antiprotozoal assay also showed inhibition of growth of Entamoeba histolytica. In an in situ cell death detection kit, it showed apoptotic-like changes. (6)

• Toxic and Antifeedant Activities: Study of the seed crude extract showed S. foetida acted as insecticide to Asian armyworm, S. litura and as antifeedant to the semilooper, Achaea janata, indicating a dual mode of action against the different pest larvae treated. (8)

• Sterculic Oil / Anti-Obesity: Oil extracted from the seeds of the Sterculia foetida tree may reduce belly fat and help protect against obesity-related issues. The fatty acid content of sterculic oil may inhibit the action of an enzyme associated with insulin resistance, which may indirectly reduce belly fat. The data from rodent studies suggest a potential for developing a natural nutritional supplement. (9)

• Antioxidant / Seed:
Study evaluated the phenolic content and antioxidant activity of methanol extract of seeds of S. foetida. The extract yielded 9.5% crude material with a total polyphenol content of 14.32%. Antioxidant activity was assessed by DPPH, ferric reducing power and ABTS. (13)

• Biodiesel / Seed Oil:
Paper suggests Sterculia foetida oil is one of the non-edible feedstocks with a potential for biodiesel production. (14) Study reports the production of biodiesel from S. foetida seed oil. Results showed as the percentage of biodiesel increases, the engine runs smoother while efficiency decreases. The blend fuel with 5% biodiesel is better with 2.8% less brake thermal efficiency than diesel.  (18) Study reports on the preparation of biodiesel from S. foetida oil. Physio-chemical properties were compared with sunflower, soybean and rapeseed oil-based biodiesel and were found comparable except for the pour point. (19)

• Nasal In-situ Gel Using Sterculia foetida Gum as Natural Mucoadhesive Polymer:
The nasal mucosa is considered a potential administration route for faster and higher drug absorption. Study shows the S. foetida gum can be successfully used as a mucoadhesive natural polymer in developed thermoreversible mucoadhesive nasal gel of zolmitriptan for use in migraine therapy. (15)

• Anti-Convulsant:
Study evaluated the anticonvulsant property of aqueous extract of Sterculia foetida in pentylenetetrazole (PTZ) and MES induced convulsions in experimental rat models. Results showed significant decrease in duration of tonic clonic seizures and recovery time in the MES model. There was delayed onset of seizures and reduced duration of convulsions in the PTZ model. (17)

• Nanoparticles / Antimicrobial / Leaves: Study reports on the extracellular silver nanoparticles synthesis using young leaves extracts as reducing agent. The bio-functionalized silver nanoparticles showed
admirable antimicrobial effect. Results suggest a eco-friendly synthetic procedure with a potential for many pharmaceutical applications. (20)

• Anti-Diabetic / Antihyperlipidemic / Leaves:
Study of a methanolic extract of leaves in alloxan induced diabetic albino rats showed significant antidiabetic and antihyperlipidemic effects with restoration of metabolic changes. The percentage reduction was higher in the glibenclamide group. (21)

• Delay of Sexual Maturity / Oil:
Study evaluated 21-day old female albino rats of Sprague-Dawley strains on diets partially substituted with S. foetida oil. Results showed 3% oil in the diet, which supplied about 105 mg of sterculic acid per day definitely delayed the sexual maturity of female rat by criteria of age at the time of vaginal opening and regularity and length of consecutive cycles. (22)

Availablity
Wild-crafted. 
Read about other interesting fruits
Acai berry        Ambarella         Avocado           Bael       Banana      Bilberry      Cocunut   
 Cantaloupe        Cashew apple      Dragon Fruit    Durian      Fig      Jack fruit   Jamun      
 Kiwi        Lychee      Malay apple     Mango        Mangosteen       Miracle fruit         Pomelo  
 Papaya     Passion fruit     Phalsa      Pineapple           Plum       Pomegranate       
Prickly pear      Quince       Rambutan           Roselle          Santol          Sapota       
Sea buckthorn       Sour Orange     Soursop           Sweet Lime         Star gooseberry 
Star Apple        Strawberry     Surinam Cherry          Sweet lime        Tamarind       Tomato 
Tree tomato      Wampi       Watermelon         Wood apple
Read about herbs and spices
Allspice          Alfalfa       Ashwagandha        Bay leaf              Black cohosh           
Black onion seeds       Black pepper       Cayenne pepper    Celery          Chives       
 Chamomile        Clove     Coffee senna    Coriander       Curry leaf         Cumin        
Eucalyptus       Fennel            Fenugreek       Garlic      Ginger         Gotu Kola       
Hibiscus         Holy basil    Jasmine     Kava Kava     Lavender     Licorice   
Long pepper    Lotus   Majoram      Marigold     Mugwort     Mustard seeds      
 Neem    Nutmeg       Oregano     Peppermint     Red  clover        Rose       Rosemary           
Sage         Sensitive plant   St.John's wort        Tarragon        Thyme     Triphala powder